Meet William Paul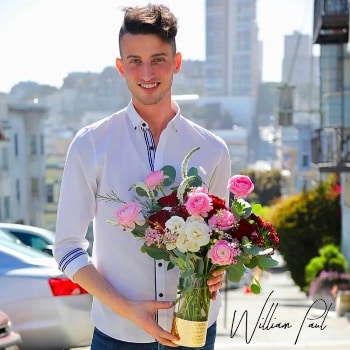 William Paul's love of flowers began at an early age when he started helping out at his grandmother's flower shop. The South Georgia native was instantly drawn to the colors, textures and incredible beauty that could be created when all of the separate elements came together as one.
As a designer, William quickly developed his own unmistakable signature garden style that features loose, earthy creations that dazzle and delight the senses. His expert eye for designing florals combined with the unique nature of a live medium give him the vision to display color, movement, depth, and proportion in stunning ways. From traditional rose bouquets to modern designs and lavish displays, his passionate approach to design focuses on the premise that flowers are so much more than decorative objects. In fact, every bloom is its own unique masterpiece that plays a specific role in the overall creation of his elegant visual displays.
William moved to Southern California at age 21 and elevated his craft to new heights managing one of California's largest floral design firms. Now, William is on a mission to deliver custom-crafted florals across the nation through his own brand, William Paul Design. William draws his inspiration from the boundless opportunities the city has to offer, whether that be a walk through the urban jungle, or a remote hike across the bay. William finds inspiration throughout his daily life and is constantly searching for new ideas and new products to feature in his shops in addition to the gift products and plants.
William Paul Design brings new life to the floral industry by offering a custom array of floral designs for birthdays, anniversaries, new babies, sympathy, get well wishes, or even just because. A gift of flowers from William Paul is the perfect way to express your love and romance and is certain to make someone smile. He also specializes in one-of-a-kind event designs for weddings, receptions, banquets, parties, and wide slate of corporate events. William Paul Design is based in San Francisco and his empire is rapidly growing as he looks to expand with new locations opening soon across the nation. In 2019, William opened his second location in Sacramento and from there he decided to return to his roots by opening his newest design studio in the trendy Buckhead district of Atlanta.
Despite his relaxed style of floral design, William takes an aggressive approach to expanding his unique brand into some of the hottest markets of the country. Plans are already underway for more design studios opening soon in Austin, TX and Nashville, TN, before opening in more locations across the nation.
Hablamos Espanol. Floreria en Sacramento.